We are Coastal Select Properties
Tricia Delp Ireland, Owner, Realtor, E-Pro, SPS, SLS
Tricia has lived in 9 different states but after doing extensive research, decided Wilmington was the perfect place to call home. She holds a Master's Degree and Doctorate in Physical Therapy but after successfully buying and selling some properties of her own she decided to turn her passion for real estate into a career. Tricia obtained her Realtor's license in New York in 1998 and in North Carolina in 2004. She has helped hundreds of clients with primary residence, second home and investment purchases as well as facilitating 1031 exchanges and 401K real estate acquisitions.
Tricia is a marathon runner and also enjoys yoga, cooking, traveling and taking advantage of all the Historic District and local beaches have to offer. In her spare time she makes short films, her latest film premiered at the 2015 Cucalorus Film Festival. She believes in long-term investing in real estate and owns several investment properties in Wilmington, Surf City and Asheville. She resides in the Historic District of Wilmington.
CONTACT TRICIA: (910) 616-9824
WEBSITE: http://www.coastalselectproperties.com/tricia-ireland/
Andrea McNair, Broker in Charge, Realtor
Andrea lived most of her life in beautiful but hectic Southern California and often says that moving to Wilmington in 2005 was her best decision. She and her husband John love the slower pace and history of the area. Andrea graduated from UCSD with a degree in Environmental City Planning and continues to be fascinated with architecture and design. Andrea has helped hundreds of buyers purchase their dream home in Southeastern North Carolina. Andrea writes Urban Fiction and Fantasy novels in her spare time and had published several series in both hard copy and eBook versions.
CONTACT ANDREA: (910)547-9282
Website: http://www.coastalselectproperties.com/andrea-mcnair/
Jennifer Davidson, Realtor, Broker
Jennifer is a native Texan and while a piece of her heart will always remain in Texas the southern coastal charm of Wilmington captivated her in 1995 when she moved and decided to grow roots here. Her background prior to Real Estate was in competitive markets ranging from Fortune 500 companies, dotcom's, Non-Profit, and franchises of which gave her a vast amount of diversity and experience in negotiations while taking care of her clients. The first business she started was an event planning company which was a natural passion and ability of hers and those skills also help in her Real Estate career. She joined Coastal Select Properties because of the strong principles the company has been built on. When she is not selling Real Estate, you will find her alongside her furry companion Witten, a German Shepherd dog who thinks she is a human! Jennifer loves to cook, share her space with friends, travel and help others.
CONTACT JENNNIFER: 910-617-1292
EMAIL: Jennifer@CoastalSelectProperties.com
Website: http://www.coastalselectproperties.com/jennifer-davidson/
Teresa Krebs, Realtor, Broker
Teresa has called Wilmington home since 1993. She grew up at the Jersey shore and knew that she would always want to live in a coastal town. She loves the Wilmington area and sharing it with others. She has seen many amazing places while studying and working around the world, but there is nothing more beautiful to her than a white sandy beach along the Atlantic.
Teresa transitioned to full-time real estate sales in 2005, after spending several years as the International Programs Manager for a non-profit organization that facilitated adoptions from Russia and Kazakhstan. She had a growing interest in the market and after her first investment purchase, she was hooked on real estate. She has always considered it a privilege to help others navigate through some of the most significant milestones in their lives.
When not helping clients, Teresa loves spending time with her two girls. They are busy with year-round swim, but she is excited that they have started playing ultimate Frisbee. In fact, Teresa is a proud sponsor of the Cape Fear Ultimate youth team (Go, Sea Urchins!) and helps with organizing the league and coaching. She also helped to start the Roland Grise Middle School Ultimate Frisbee team and serves as an assistant coach.
CONTACT TERESA: 910-470-2004
EMAIL: Teresa@CoastalNCLife.com
Website: http://www.CoastalNCLife.com
David Billitto, Realtor, Broker
David is a transplant from Philadelphia with a decade-plus layover in Southern California. Not long after reading an article in Surfer Magazine entitled, The Top 10 College Towns for Surfers, he moved to Wilmington, NC. In his 30s and ready to take a break from a career in finance and investments, he settled into the good life here in 2003.

Since moving to Wilmington, David and his wife Pam have built a portfolio of over 30 vacation rentals from here to Asheville and have owned two unique bed and breakfasts. They regularly house travelers and prospective clients and view themselves as stewards to all of Wilmington. He has also owned NC's smallest bar, coached college football, and has developed small condo projects along with saving and repurposing numerous pre-20th century structures.

Avid animal rescuers, including five blind dogs, David and Pam can often be found enjoying ILM with one or more pets in tow.

David believes in helping clients make informed real estate decisions by offering extensive data, up-to-date information, and breadth of experience.

David attended Johns Hopkins University, Ursinus College, and SDSU where he studied Literature and Creative Writing on undergrad and graduate level and has two MBAs in Finance.

He is easily reached via text or call at 910-297-0145. Expect a subsequent invite to stop by for some "porch time".
CONTACT DAVID: (910)297-0145
WEBSITE: http://www.coastalselectproperties.com/david-billitto/
Amy Yerdon, Broker, Realtor
Amy is a proud Wilmington native. Growing up in Wilmington and attending public schools in New Hanover County, she has watched the county grow into an area that many visitors would like to call home. Amy graduated from the University of North Carolina at Wilmington earning a Bachelor's degree in Communications and returned to graduate school earning a Master's degree in Elementary education.
She began her real estate career in 2007. While keeping her license up to date, Amy continued to stay closely tuned into the local market conditions, trends, and the needs of clients, family, and friends who were actively pursuing property in the Wilmington, Wrightsville Beach, and Carolina Beach areas. She is very excited to be able to refocus her real estate career by joining the Coastal Select Properties team.
Amy and her husband, Derek, a native New Yorker, are busy raising four children. They all love spending time outdoors and traveling. She and her family can usually be found on the beach or on their boat, as they split their time between their homes near Wrightsville Beach and on Carolina Beach.
CONTACT AMY: (910)264-2421
WEBSITE: http://coastalselectproperties.com/amy-yerdon/
Kym Pattishall, Broker, Realtor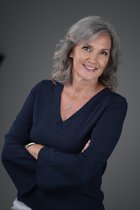 Kym brings creativity, passion, and discernment to the table for her buyers and sellers. She has called the Wilmington area "home" since 2004 and is deeply steeped in its community. She has a BA in English and has worked in different sectors, from teaching, and business ownership to development work for local non-profits. In real estate, she has worked in marketing and law, so she puts her acquired knowledge to practice and shares it for your success. Authenticity and professionalism are traits she most admires in others and strives to convey. In her free time, she enjoys reading, writing, cycling, traveling, and spending as much time as possible outdoors -preferably oceanside. As a recent empty-nester and resident of Surf City, she volunteers with Share the Table and serves on their Capital Campaign Committee.
CONTACT KYM: (910) 538-3252
WEBSITE: http://www.coastalselectproperties.com/kym-davidson
Glen Allan Rogers, Broker, Realtor
I arrived in Wrightsville Beach 6 years ago to lead the Wrightsville Beach Fire Rescue Department as Fire Chief. My time as WBFD, working with WB officials, townspeople and surrounding Wilmington public safety partners was a fantastic experience. It was truly a highlight of my fire service career.
Originally from Cape Cod, I served in various capacities serving the emergency services in Massachusetts. My family roots are deeply set in multigenerational connections to the sand and sea of Cape Cod. Despite these deep ties to Cape Cod, I have an adventurous streak to explore our great country. Wilmington and the surrounding communities have connected to my joys of adventure and so this area has become my home.
Entering the Real Estate field after my first responder service was a natural transition. Most of my knowledge has been saving homes from fire and studying homes for firefighting knowledge. Finding people a new home or 'new to them' home that is safe and makes them happy and satisfied brings me joy.
CONTACT Glen: 508-654-2625
Leila Tabatabai, Broker, Realtor
Upon moving to
North Carolina in 1989 to attend North Carolina State University on a soccer scholarship, Leila knew she had found what she would always call "Home". She fell in love with NC and Wilmington quickly became her favorite town to visit. She relocated from Raleigh to Wilmington in 2007 and worked in the tourism industry before following her passion for a career in real estate. She purchased a few Historic downtown Wilmington condos so she could share that passion with visitors and potential residents. She has met so many wonderful travelers who also now call Wilmington, NC their home. In her free time, Leila enjoys fishing, working out, playing with her furbabies, spending time with the family, cooking, and of course enjoying our lovely downtown Historic District and beautiful beaches. She truly loves calling Wilmington her home and wants to make that your reality as well.
CONTACT Leila: 910-508-1940
WEBSITE: https://www.coastalselectproperties.com/leila-tabatabai/
Colleen Keefe, Marketing Consultant, Writer
Colleen holds a B.S. in Business/Marketing from La Salle University. Her previous professional experience includes working in administrative and marketing capacities within small to large companies. During her years as a "stay-at-home" mom, Colleen logged countless hours serving in volunteer leadership positions at her children's schools, planning both school and neighborhood events, and working as the Costume Director for several middle school musical productions. Her natural curiosity about people and the world around her provides an endless supply of writing material! Her favorite parts of the Cape Fear region are enjoying the many eateries and shops in downtown Wilmington, strolling along the RiverWalk, and venturing over to the nearby beaches.