The path to finding the perfect house can be slightly less than perfect.
Anyone who has ever gone through the process of finding and buying a new home knows that the perfect home rarely falls into your lap. But, no one knows this better than Lauris Burns and Gene Foltuz.
Shortly after Lauris and Gene arrived in downtown Wilmington, NC just to "check it out" a couple of years ago, they were only sure of one thing - they wanted to stay. Both having been retired for some time, they'd been living in Lima, Peru for six years and had decided it was time to return to the states. Originally New Englanders, this time they sought southern accents, wrap around porches with rocking chairs, and live oaks (but, still no sweet tea).
Long time foodies and art and music lovers, Lauris and Gene have often let their senses lead the way to big decisions. In fact, it was their love of the food in Lima that convinced the couple to turn what was intended to be a vacation into permanent residency.
"...this time they sought southern accents, wrap around porches with rocking chairs, and live oaks (but, still no sweet tea)."
As for downtown Wilmington, Lauris said it was a combination of things - a blend of traditional southern cuisine and exquisite fine dining, the architecture, the climate, and the rich arts culture - not in any particular order (besides the food, of course).
They both say, though, that it was the people they met here that put them over the edge. They were instantly hooked.
"I asked one of the owners of that wonderful bed & breakfast we were staying in about houses for sale downtown. So, he referred me to someone, and then she referred me to Tricia," Lauris said. "And, when I met her, it felt perfect. She was extremely patient. She responded to every single request, and she was incredibly diligent. She didn't leave a stone unturned."
It was this diligence, in fact, that led to dream houses #1, #2, #3 falling by the wayside. Because Lauris and Gene had a few very specific parameters, there were little more than a handful of downtown options. So, when hidden issues were revealed upon additional investigation three times in a row, Lauris and Gene had to go back to the drawing board.
"I was pretty disappointed. I really started to wonder if we'd ever find what we wanted," Lauris said.
And, then, just like that, after weeks of internet research from her home in Lima, Lauris stumbled across something unexpected - a traditional, shotgun-style home in downtown Wilmington that had been completely gutted and beautifully renovated. It was a brand new listing, so she immediately wrote to Tricia. Over the next few weeks, the house met all specifications and then some. Tricia assured Gene and Lauris that is was perfect.
"And, she was right," Lauris said. "And, then suddenly, it was ours. It's so funny, though, I didn't think I'd love it this much."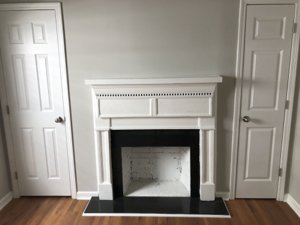 Lauris and Gene bought the home sight unseen, so there were a few surprises - like the spacious sunroom in the back.
"I didn't even know this room was here!" She said, pointing to the sunroom from the "rec room" she also hadn't seen.
Gene followed behind her and they chatted about their plans for the back yard.
"It's funny though, I didn't think I'd love it this much."
Walking back through the kitchen later, Gene explained that he was an artist, and said that it was largely the arts culture that drew him in here.
"I love that there's a strong community of artists and artisans here," he said. "I'm really hoping to get involved in all of that."
One of Wilmington's newest studios, ArtWorks™, is one of Gene's favorite spaces.
Aside from a stellar restaurant and food truck selection, and the art, music, and theatre scenes in Wilmington, Gene is also ecstatic about the fact that "...it hardly ever snows!"
As for the house, it's perfect, he says, even if perfectly empty.
Having just flown in from Peru less than ten days ago, Gene and Lauris have a bed, a table, and everything they need for the kitchen. And, the rest is en route.
While the house looks tiny from the outside, it has three bedrooms (one with a fireplace), a rec room, sun room, laundry room, two bathrooms and a large family room, also with a fireplace. It feels endless once you're inside, at least in one direction.
The house is a perfect blend of old and new, of fresh and lived in. It seems as rooted in and comfortable as it does newly hatched and exuberant, much like its inhabitants.
"So," says Lauris. "I've decided I must have some nice rocking chairs. I want the real, solid, southern rocking chairs. In fact, I think that's what we're going to do today, Gene. This porch needs some rocking chairs," she said.
The proper southern start to happily ever after...
Welcome to the neighborhood, Lauris and Gene! We're so happy you're here.